| | |
| --- | --- |
| Posted by walksally@gmail.com on December 20, 2012 at 1:50 AM | |
Did you know that the state of Gujarat is a dry state, yes really.. no alcohol. Not without a permit that is. So today I went with Indian artists Vineet and Madhur to help set up the exhibition and get some alcohol. Seems like that should be a simple process. Well the setting up of the exhibition was fine, dragging plynths and arranging everyone's art work was the easy part. Getting alcohol, on the other hand is a little more complicated. Firstly we had to get copies of passports and tickets made, then an application filled out and  then off to a small office to get a permit. The office was just a large counter and a cabinet full of alcohol behind. Two or three men were processing applications, and the whole process required further copies of my passpport, a range of stamps and a signature. It took quite some time, but as I was an international traveller I was able to get twice as much alcohol as my Indian friends. It was very interesting.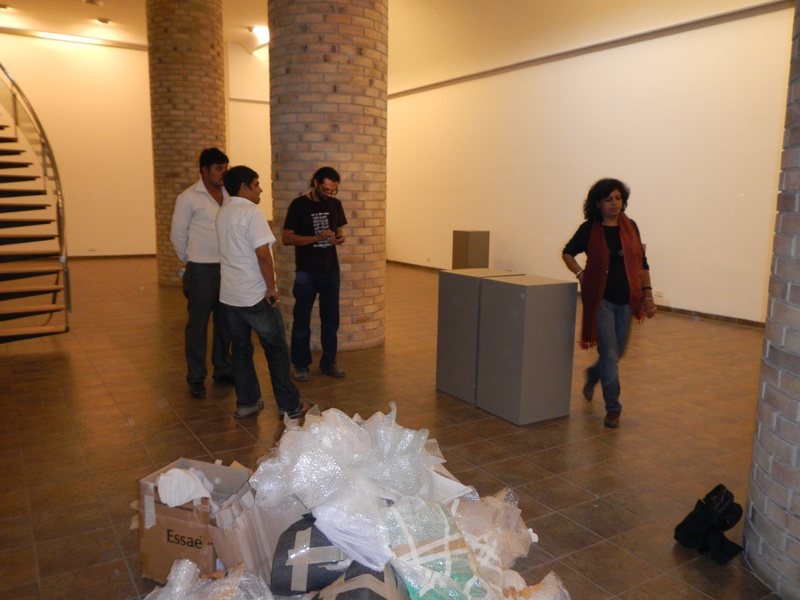 setting up the exhibition above
It was a long day and we arrived back at the art centre pretty late. Everyone was already around the fire having a few drinks before dinner. Something we did as a group every night., which was really nice. Dinner was always served quite late for what I am used to, but by the end of my trip I quite liked the late meal. The food was amazing, I love Indian food and I was never dissapointed. Often after dinner we kicked up our heals and did a bit of dancing, I laughed so much that my tummy muscles hurt. I will reall y miss these evenings.