| | |
| --- | --- |
| Posted by walksally@gmail.com on January 14, 2012 at 5:40 PM | comments (1) |
Hi all,
Yes I know its been a few days since the last entry, sorry about that. Anyway I have been quite busy. My work is going well and I have started a new sculpture, that will be made up of a many pieces like the ones that you have seen. I have also put some work into the test firing. I was a bit worried about firing a kiln that I don't know, however there was no need, because as it turns out, that is my assistants job. Ito, collected my work, stacked the kiln and is in the process of firing it. How nice is that. We decided to fire straight to 1250 degrees, so I am keen to see how it goes, but I have to wait until Wednesday to open the kiln. I have 2 more firings scheduled for this residency and now its just time to get some work completed.
Last night I went to Kuwa's house for dinner. She is such a generous and welcoming person. Her home is small, by comparison to Australian standards, but still managed to fit 8 people to dinner. I took a bottle of Australian red wine, and a bottle of sake as a gift for Kuwa. I was told that she likes sake, so I thought I can take a bottle for her, however that is easier said than done, when you don't read Japanese. At the supermarket, I stood in front of what seemed like hundreds of different bottles of what I assumed was sake. I randomly picked one, and hoped for the best. As it turns out, it was a very nice bottle and she was happy.
Kuwa cooked tempura, along with a few other dishes for dinner, it was delicious and as the sake flowed it was hilarious. Who needs language, you just need sake to communicate.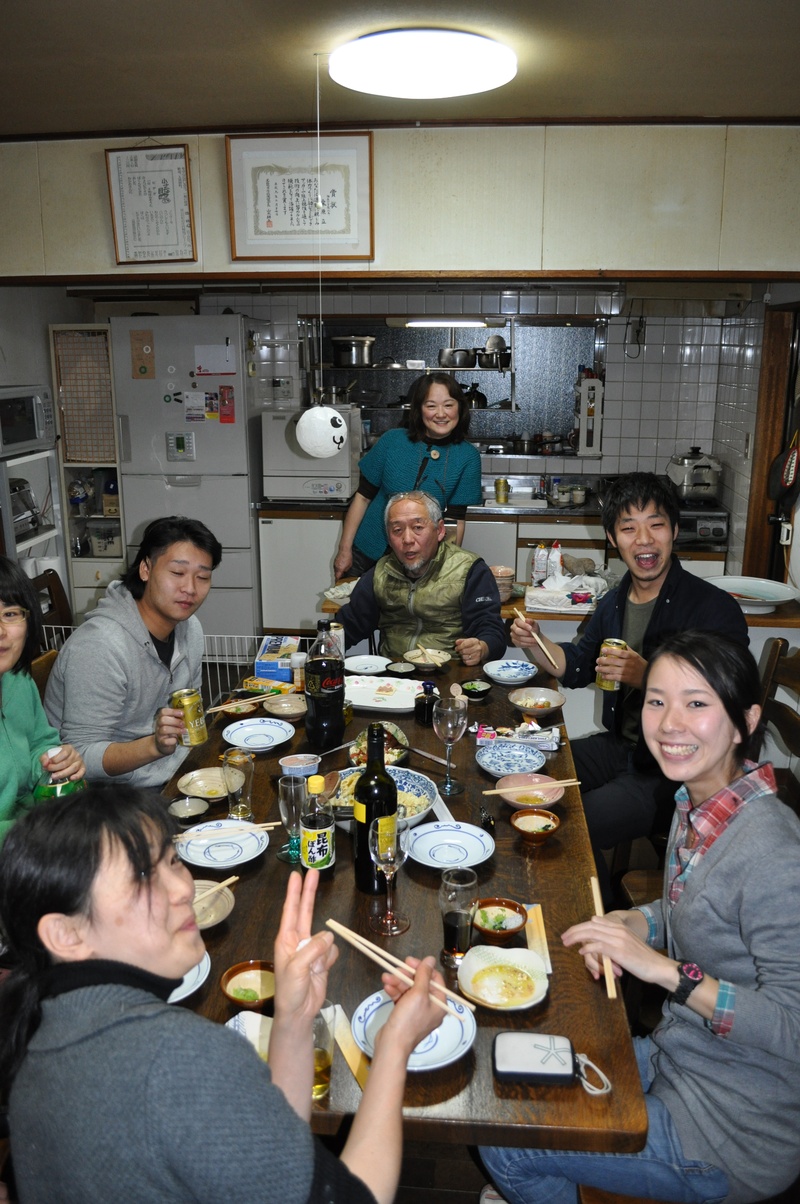 At the back of this image is Kuwa and directly in front of her is her husband, to the right at the front is Ai, my assistant and all the rest are trainee's in the studio.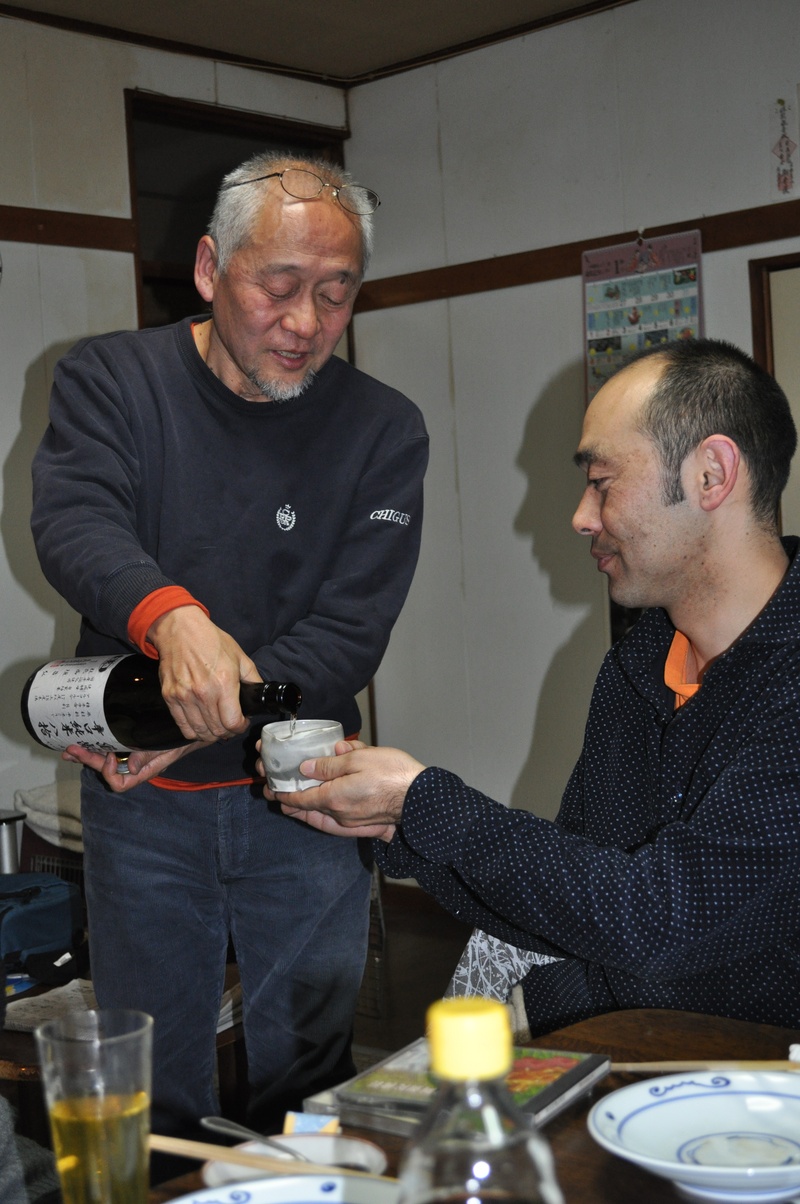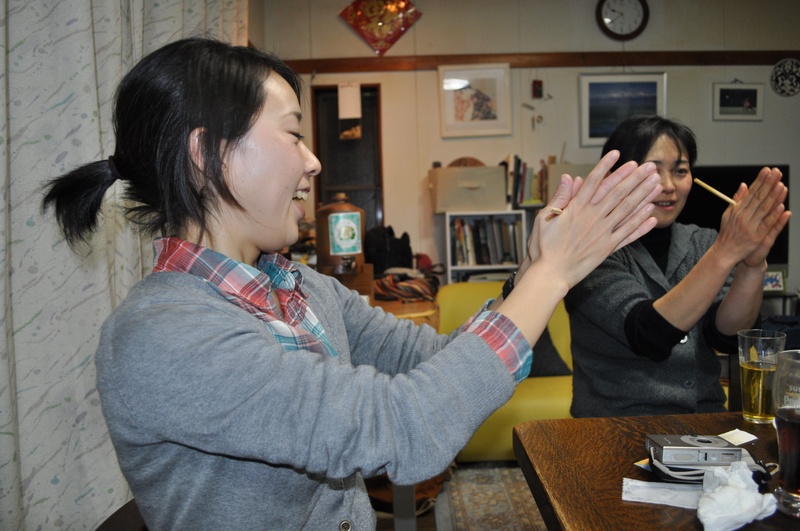 And as the sake flowed so did the chopstick games...of course. And then the, can you do this game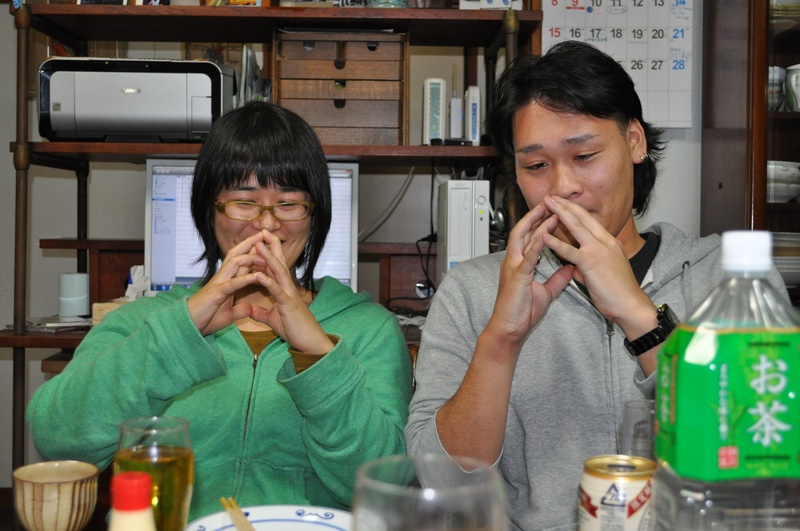 Anyway it was a wonderful evening with new friends and it ended with everyone deciding that they are all coming to my house in Australia for their graduation break up trip.
Thankfully I did not drink too much, so back to the studio for me today.
Bye for now